Surna, Inc. (OTCQB: SRNA) - September 1, 2015
Surna, Inc. Announces Appointment of Chief Executive Officer


BOULDER, CO, - September 1, 2015 (PRNewsWire via COMTEX) -- Surna Inc. (OTCQB: SRNA), a technology company that engineers state-of-the art equipment for controlled environment agriculture with special expertise in cannabis cultivation, announced today that its Board of Directors has appointed Stephen Keen as its President and Chief Executive Officer.

In 2007, with his extensive cultivation expertise, Keen founded Hydro Innovations to design and develop liquid cooled technologies for hobby cultivators. Hydro Innovations was acquired by Surna in 2014, and since then, Keen has been Surna's Vice President of Research and Development, driving Surna's industry-leading innovation engine.

"I'm honored by the appointment and excited to lead Surna during this period of rapid growth. I will be focusing on profitability as my top priority, including commercializing the groundbreaking products that my team and I developed while I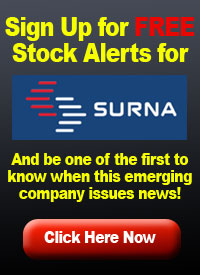 was VP of Research and Development. As a shareholder, I see nothing more important to Surna's success than these two priorities."

Keen added, "I would also like to thank Tae for acting as our interim principal executive, which was no easy task. The time Tae spent in this position gave me the time to complete some truly exciting R&D projects before transitioning into the role of CEO."

Tae Darnell remains on the Company's Board. "We're all very excited to have Stephen appointed as CEO for Surna," he said. "As the visionary and creative leader of the Surna platform and the former CEO of Hydro Innovations, nobody knows Surna better than he does. I'm honored to have been able to serve in the role and look forward to continuing to be involved with the amazing growth our company is experiencing."

About Surna:
Surna, Inc. (www.surna.com) develops innovative technologies and products that monitor, control and or address the energy and resource intensive nature of indoor cannabis cultivation. Currently, the Company's revenue stream is based on its main product offerings – supplying industrial technology and products to commercial indoor cannabis grow facilities.

Headquartered in Boulder, CO, Surna's diverse engineering team is tasked with creating novel energy and resource efficient solutions, including the Company's signature water-cooled climate control platform. The Company's engineers continuously seek to create technology that solve the highly specific demands of the cannabis industry for temperature, humidity, light and process control.

Surna's goal is to provide intelligent solutions to improve the quality, the control and the overall yield and efficiency of CEA. Though its clients do, the Company neither produces nor sells cannabis.

Safe Harbor Statement
This news release contains statements that involve expectations, plans or intentions (such as those relating to future business or financial results, new features or services, or management strategies) and other factors discussed from time to time in the Company's Securities and Exchange Commission filings. These statements are forward-looking and are subject to risks and uncertainties, so actual results may vary materially. You can identify these forward-looking statements by words such as "may," "should," "expect," "anticipate," "believe," "estimate," "intend," "plan" and other similar expressions. Our actual results, such as the Company's ability to finance, complete and consolidate acquisition of IP, assets and operating companies, could differ materially from those anticipated in these forward-looking statements as a result of certain factors not within the control of the company such as a result of various factors, including future economic, competitive, regulatory, and market conditions. The company cautions readers not to place undue reliance on any such forward-looking statements, which speak only as of the date made. The company disclaims any obligation subsequently to revise any forward-looking statements to reflect events or circumstances after the date of such statements or to reflect the occurrence of anticipated or unanticipated events.

Statement About Cannabis Markets
The use, possession, cultivation, and distribution of cannabis is prohibited by federal law. This includes medical and recreational cannabis. Although certain states have legalized medical and recreational cannabis, companies and individuals involved in the sector are still at risk of being prosecuted by federal authorities. Further, the landscape in the cannabis industry changes rapidly. What was the law last week is not the law today and what is the law today may not be the law next week. This means that at any time the city, county, or state where cannabis is permitted can change the current laws and/or the federal government can supersede those laws and take prosecutorial action. Given the uncertain legal nature of the cannabis industry, it is imperative that investors understand that the cannabis industry is a high-risk investment. A change in the current laws or enforcement policy can negatively affect the status and operation of our business, require additional fees, stricter operational guidelines and unanticipated shut-downs.


At the Company
David Traylor
Chief Business Officer
(303) 993-5271
david.traylor@surna.com

Investor Relations
David Kugelman
Atlanta Capital Partners, LLC
(404) 856-9157
(866) 692-6847 Toll Free - U.S. And Canada

SOURCE: Surna, Inc.
---
Disclaimer
FN Media Group LLC (FNMG) owns and operates FinancialNewsMedia.com (FNM) which is a third party publisher that disseminates electronic information through multiple online media channels. FNMG's intended purposes are to deliver market updates and news alerts issued from private and publicly trading companies as well as providing coverage and increased awareness for companies that issue press to the public via online newswires. FNMG and its affiliated companies are a news dissemination and financial marketing solutions provider and are NOT a registered broker/dealer/analyst/adviser, holds no investment licenses and may NOT sell, offer to sell or offer to buy any security. FNMG's market updates, news alerts and corporate profiles are NOT a solicitation or recommendation to buy, sell or hold securities. The material in this release is intended to be strictly informational and is NEVER to be construed or interpreted as research material. All readers are strongly urged to perform research and due diligence on their own and consult a licensed financial professional before considering any level of investing in stocks. The companies that are discussed in this release may or may not have approved the statements made in this release. Information in this release is derived from a variety of sources that may or may not include the referenced company's publicly disseminated information. The accuracy or completeness of the information is not warranted and is only as reliable as the sources from which it was obtained. While this information is believed to be reliable, such reliability cannot be guaranteed. FNMG disclaims any and all liability as to the completeness or accuracy of the information contained and any omissions of material fact in this release. This release may contain technical inaccuracies or typographical errors. It is strongly recommended that any purchase or sale decision be discussed with a financial adviser, or a broker-dealer, or a member of any financial regulatory bodies. Investment in the securities of the companies discussed in this release is highly speculative and carries a high degree of risk. FNMG is not liable for any investment decisions by its readers or subscribers. Investors are cautioned that they may lose all or a portion of their investment when investing in stocks. This release is not without bias, and is considered a conflict of interest if compensation has been received by FNMG for its dissemination. To comply with Section 17(b) of the Securities Act of 1933, FNMG shall always disclose any compensation it has received, or expects to receive in the future, for the dissemination of the information found herein on behalf of one or more of the companies mentioned in this release. For current services performed FNMG has been compensated one thousand nine hundred dollars for Surna, Inc. news coverage by the company. FNMG HOLDS NO SHARES OF Surna, Inc.

This release contains "forward-looking statements" within the meaning of Section 27A of the Securities Act of 1933, as amended, and Section 21E the Securities Exchange Act of 1934, as amended and such forward-looking statements are made pursuant to the safe harbor provisions of the Private Securities Litigation Reform Act of 1995. "Forward-looking statements" describe future expectations, plans, results, or strategies and are generally preceded by words such as "may", "future", "plan" or "planned", "will" or "should", "expected," "anticipates", "draft", "eventually" or "projected". You are cautioned that such statements are subject to a multitude of risks and uncertainties that could cause future circumstances, events, or results to differ materially from those projected in the forward-looking statements, including the risks that actual results may differ materially from those projected in the forward-looking statements as a result of various factors, and other risks identified in a company's annual report on Form 10-K or 10-KSB and other filings made by such company with the Securities and Exchange Commission. You should consider these factors in evaluating the forward-looking statements included herein, and not place undue reliance on such statements. The forward-looking statements in this release are made as of the date hereof and FNMG undertakes no obligation to update such statements.